Compassionate, Comprehensive Veterinary Care For Your Pet
After practicing for many years under the same roof, Veterinary Emergency Center of Canton and Leshem Veterinary Surgery have merged into one urgent care/specialty surgery center! Together, we offer your pet superior veterinary services in a state-of-the-art facility. That means a hospital staffed with patient care nurses around the clock every single day of the year, including holidays and during inclement weather—we're even equipped with a generator in the event of a power loss. Every contingency is covered so that your pet is guaranteed the best, most consistent care possible.
It is an emergency?
Injuries and signs of illness in your pet are not always clear cut, and it can be difficult to know what requires urgent attention and what can wait. Because even minor issues may progress quickly into major life-threatening problems, you should always call your veterinarian when you're unsure. He or she will help you assess the problem and, if necessary, guide you to the appropriate care at an emergency center like ours.
Read More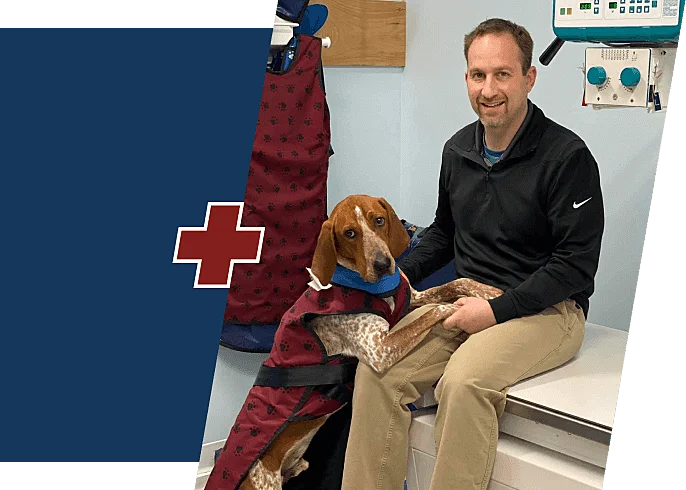 We know you love your pets
We Love Them, Too
Being smaller and privately owned allows us to do everything we can to serve you. What does serving you mean? It means we try our hardest to tailor our approach and treatment plans that best fit your needs, philosophies and budget. Not all pets are the same and along those lines, not all pet owners are the same. Yes, veterinary surgery is about the pets, but it is also very clearly about the people as well.
Meet Our Team
Surgical Services
As part of the Veterinary Emergency Center, Leshem Veterinary Surgery offers exceptional diagnostic, surgical, and anesthesia services. Our skilled veterinary surgeons utilize the most advanced equipment and technology to provide:
• Orthopedics
• Soft Tissue Surgery
• Anesthesia
• Cancer Treatment
• Diagnostic Imaging
• Post Operative Care
• Rehabilitation
Read More
Our Testimonials
"When we discovered that Remy would need to have surgery to repair his ACL, we were worried about so many things – Would he be ok under anesthesia? Would he be in pain? Would the recovery be awful? As soon as we met Dr. Leshem, our worries quickly began to dissolve. His bedside manner not only with Remy, but with us, made us feel immediately at ease. He clearly had Remy's best interests as his number one priority. He explained everything to us, in detail, from start to finish, and even gave us his cell phone number, in case we had questions or concerns during his recovery! Now that Remy has made a full recovery from his surgery, we hope he won't ever need another…but if he does, we know who we'll call! Thank you, Dr. Leshem!"
Lindsay
"I am thankful for Dr. Leshem's expertise in surgery, his love and caring for animals, his patience and explaining to me what was involved and what to expect before and after my dogs operation. He helped my dog walk again with full use of his rear leg. You would never know he had surgery on his leg. Of course there was therapy afterwards and I did every thing that I was instructed to do, which is a very important part of recovery. Dr. Leshem also did many follow ups to oversee that my dog was progressing and healing within the time frame. I am grateful that he was there when we needed him. He is a fabulous surgeon and I would trust him with any one of my dogs. I highly recommend Dr. Leshem and his staff to anyone who would require his services."
Laurie Ann
"We had an excellent experience with Dr. Leshem for our dog's surgical needs. He was kind and compassionate with us and our new puppy. He called us after surgery to let us know that everything went well. When he found something unexpected in our dog, he took the time to explain it to us and then gave us information on whom to use for follow up. He checked on our dog after he was sent home which gave us complete peace of mind. We highly recommend Dr. Leshem!"
Lisa
"I am a local veterinarian who has known Dr. Leshem for decades. Dr. Leshem is one of the most talented surgeons I have worked with. I never worry when my patients are in his care, he is an awesome veterinarian with years of experience."
L. Montresor